People from all ages and genders use wigs to express their personality, to make a change in their appearance or turn into someone else. There are so many different parties and occasions where you can dress up and put a wig on. But you can wear a peruke on every other day because contemporary wigs are made to replace your own hair if you don't want to damage it. For example if you are a lady with very thin and straight hair but you dream for the best curls in the world you don't have to damage your hair every day. Today there are human hair wigs and synthetic fiber ones, which you can buy from everywhere. Of course wigs require some cares but not expensive products and hot tools.
Colourful celebrations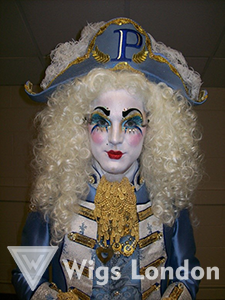 Probably the best occasion for which you will need a wig is Halloween. A great variety of cosplay wigs can be found on the Internet or in the themed carnival shops. Whether you will transform into Cruella Devil or Slash from Guns'n'roses you can choose a suitable peruke for you. When you put on such a strange wig you can be sure that even your parents won't recognise you. In fact this is the aim of the event, but don't forget the perfect costume, suitable for your role and wig. In the past people used wigs for fancy dress balls and today it's not very different except the contemporary ones are not so formal. But of course you can see women with wigs not only on Halloween but on all Fashion Weeks around the world where extravagant dresses need extra accessories and what more bald than an attractive wig.
Popular followers of the fashion
Because it is so trendy, nowadays there are a lot of celebrities who wear wigs not only for television purposes but also to keep their indulgent image. But when you think about it you will agree that they do it in order to keep our interest and in the same time they take care of their own hair. What will happen to Katy Perry's hair if every time she is on stage she had to dye her hair in different colours. Some other celebrities who use wigs are:
Donna Summer
Dolly Parton
Lady Gaga
Tina Turner
Cher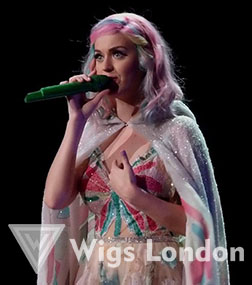 You may decide not to wear a whole wig but just some extensions which will make your real hair thicker and longer. They also may be found in different lengths, colours, styles and types (human hair or synthetic fiber). Usually for the best results you need a hairstylist who will attach all strands of artificial hair with clips and it will be invisible. It is very important to choose a proper colour of your extensions or false pony tail, because there shouldn't be a difference between the hairs on your head. Of course there are extensions in ombre style so you will combine your hair colour with the upper one. Whether it is a wig or extensions make sure it looks like natural hair.